Our Organization
The Columbus Athletic League, Inc. (Columbus League) is a non-profit 501(c)3 organization dedicated to providing a venue for the children of Montgomery County develop a healthy body, mind and soul via athletic competition.
The Columbus League currently focuses its efforts on delivering a five-meet track and field league for Catholic girls and boys aged 3 to 14 in Montgomery County, Maryland.
Our Mission
To help the youth of Montgomery County, Maryland develop a healthy body, mind and soul through participation in youth sports and recreation.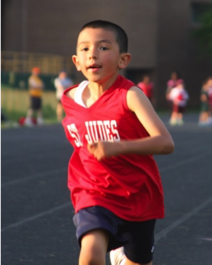 Our Story
For nearly ten years, a small group of parent volunteers from Montgomery County's Catholic schools organized track and field meets for the county's Catholic children. Over the years, these meets grew from hosting a couple of dozen children to well over 100 youth at the largest meets, a testimony to their growing success and to the benefit they bring to the children who participate.
These meets were successful for a few key reasons:
They are organized by our Catholic community for our Catholic community.
They are held locally, making it easy for children from our neighboring Catholic schools to attend.
The meets are short - less than 3 hours - when compared to a typical 6+ hour-long track meet.
No advanced registration is required - participants simply show up with their team at the start of each meet and join the events they like most.
Unfortunately, as the impromptu program grew, costs and complexity grew, as well.  With more teams participating, costs rising to rent local facilities, and with a neighboring league no longer hosting meets in the county, parents formed the Columbus League to serve as a hub for the popular athletic meets.  Named in honor of Christopher Columbus, the league is incorporated as a non-profit & holds five track and field meets each season.
Currently, athletes from nearly a dozen Catholic schools participate -- including students from Holy Redeemer, Mary of Nazareth, Our Lady of Lourdes, Our Lady of Mercy, Our Lady of Victory, Saint Bartholomew's, Saint Elizabeth's, Saint Jane Frances de Chantal, Saint Jude's and Saint Martin of Tours.
Get Involved...
The Columbus League is seeking volunteers, welcomes additional participating organizations, invites young athletes and appreciates the help of donors.  To help, contact us using the button at right.