Roughly midway through last weekend's Columbus League Championship meet, five Our Lady of Victory runners formed the daunted "V" formation as they barreled down the track in their 200 meter heat, portending what was to come for the rest of the Columbus League.  Despite the best efforts of Our Lady of Mercy, Mary of Nazareth, Holy Redeemer and Saint Jane De Chantal boys teams, the Victory boys piled up 383 points to Mercy's 351 en route to the boys championship in the league's inaugural season.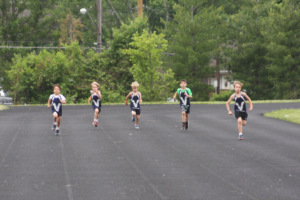 Victory's V Formation at Columbus League Championships
Mary of Nazareth boys closed with 128 points and finished third at 541 total points for the season; Saint Jane De Chantal closed out the meet 109 points (436 total points) to claim sixth with 436 total points; Holy Redeemer closed with 103 points for the meet to finish fifth with 440 total points; idle Saint John the Evangelist captured fourth with 451 points generated in previous meets.
Notable performances were also turned in by Saint Patrick's (Terharr and Gardner), Our Lady of Lourdes (Sparmo and Polis) and Holy Cross (Thomas) at the meet.